Testimonials
Reviews ! Referrals !! Recommendations !!!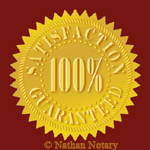 I highly value feedback from my customers and strive to improve my notary services based on their experiences. 7 out of 10 calls that about I receive about notary services are from my customers' Reviews, Referrals and Recommendations. I sincerely appreciate it.
If you are content with my notary services, please refer your friends and family to me and I will be happy to assist them. 100% Satisfaction guaranteed.
Feel free to read my customer reviews and share your thoughts about my notary services on the following sites:
Here are some reviews from my customers:
From Yelp.com

Nathan was prompt in responding to a request I made in the late afternoon on a weeknight and met my girlfriend and I in Cupertino later that night. Even though the form I had to notarize was a little outdated, he had an additional certification to attach and was extremely nice and accommodating when I didn't really know what I needed (this was the first time I had ever gotten anything notarized). His price is super cheap – $5 per signature – and he is friendly, helpful, and professional. I will happily go back to Nathan the next time I need something notarized."
Ben S., Los Altos, CA, 9/4/2011

"Just met with Nathan. I emailed him around 10AM on a Saturday morning and I got my document notarized by 1pm at a coffee shop. He is really sincere and no doubt he knows what he is doing. Wonderful experience!"
Jubilee C. San Jose, CA/03/26/2011

"Today's notarization has been my second experience with Nathan Notary. And both my notarization experiences have been more than fantastic. Mr. Nathan is a true professional, fair and sincere man. He does the notarization of the documents in a short time and also gave me a small discount since I had several documents that had to be notarized. Thank you for your great service and professionalism. Keep it up!! I'll be back for sure."
Naveen D. San Jose, CA | Nov. 21, 2010

"I highly recommend Nathan as a notary public. He is very professional, detail oriented and responsive, emailing me back right away to arrange a time to come over. He came to our house in a very bad storm a few weeks ago and saved us a trip with our two kids. You won't be disappointed."
Christine L., Los Altos, CA | Feb. 6, 2008

"Who else will answer your call @ 7PM Sunday night and meet you at a mutually convenient location to take care of your notary needs? Thanks, Nathan! "
Shirisha R, Campbell, CA / Sept 12, 2010

"Absolutely first-rate. My mother-in-law was hopitalized and I needed her to sign some documents relating to her retirement and have them notarized. I found Nathan via a Google search and arranged to have him meet me at the hospital. He was prompt, friendly and had a very professional manner. He was patient with my mother-in-law and very efficient and detail-oriented. And his fee was exremely reasonable. All the documents her notarized for us were accepted by the California State Teachers' Retirement System, a very picky and troublesome bureaucracy. Next time I need a notary in the Bay Area, I'll call Nathan first."
Philip.W., Eureka, CA|April 10, 2009

From Yahoo Local

"Being disabled and unable to get around easily Nathan Notary's mobile service was a GREAT solution. His low pricing made his services even more attractive to those living on a budget. He was professional, courteous, and attended to the service promptly. Excellent service, I would use him again."
Jill – Sunnyvale, CA June 02, 2009

"Nathan was very quick at returning my email. With a new baby at home, it was wonderful to have the convenience of him coming to me. My home is a little difficult to find but he found it. Very neat, friendly and professional. Great experience
."
Ashley – San Jose, CA., Sept 30, 2010

"I am new to the area and I had to find a notary service. I saw that Nathan Notary had the most and the best reviews so I thought I try it. And why not, he has mobile services and is affordable. Sure enough, he came through for me with flying colors! He was great! He came to my place on time and professional. Everything was done in a matter of minutes! Thanks Nathan for the excellent service!"
Lolo., May 15, 2008
From LinkedIn members:



Top qualities:Expert, Good Value, On Time


"Nathan Notary is synonymous with Value, Punctuality, Flexibility and Integrity. Nathan approaches his work with professionalism and a service attitude. I have been more than pleased with his service and would not hesitate to recommend him to others for their notary services."
Sripathi (Sri) Ramadurai, September 10, 2011
Top qualities:Personable, Good Value, High Integrity


"Nathan is the most sincere service provider I've witnessed in his field. He will give you excellent value while under promising and over delivery and Nathan will become your friend in short order. Phil Strong Strong Leadership Systems."
Phil Strong,August 25, 2011
Top qualities: Great Results, Good Value, On Time


"I've used Nathan's notary service 3 times in the past. He is always reliable and his service is convenient and reasonably priced."
Angela Ren, August 30, 2009
Top qualities: Expert, Good Value, High Integrity


"Excellent notary service at the best price. Very update on the latest notary laws. Have used over a dozen times!" May 3, 2009.
Steve "Gator" hired you as a Notary in 2008 and hired you more than once
Top qualities:Expert, Good Value, High Integrity


"Nathan is knowledgeable and reliable as a notary. He is able to handle many different types of paperwork. Nathan is one of the finest individuals in the community. He is not only good at what he does, he gives back to the community in many ways. I would highly recommend him.
Carla Evans – President, Evergreen Business & Professional Association" March 16, 2010
Top qualities: Expert, Good Value, On Time


"Nathan Notary makes getting anything notarized easy. He comes to you or meets you at your location. What could be better when all of us are so busy. And trying to find a Notary at YOUR time is almost impossible. Need something notarized after work? No problem. We've used Nathan several times and every situation was 100% professional and convenient. A+"
May 11, 2009. Craig hired you as a Notary in 2008 and hired you more than once.
From Google users
Excellent Notary!‎ Nathan is very knowledgeable, friendly and professional, the good part is he comes to where you are
very convenient, I highly recommend him for all your Notary needs.
- Aug 14, 2009
Good Service, very friendly Nathan's service is really excellent. His service is really a boon for those who don't have a car like me. I called him to come to my home and he came on time an attested my documents. Thanks, Nathan!
Pragathish, Feb 8, 2008
Excellent professionalism and keep up the great work Nathan. I have had the oppurtunity to make use of the service provided by Nathan to notarise my documents couple of times. Each time Nathan has made it comfortable to avail this service, as he has come home and handles it professionally. I appreciate the service provided by Nathan for such a steal deal. I would strongly recommend Nathan if you don't want to be disappointed for notarising any of your documents. He is prompt, punctual and a true professional at the service he offers. Excellent professionalism and keep up the great work Nathan.
Google user- Jul 08, 2008
From Facebook Fans:
Nathan was very prompt. I called him on a Saturday morning and he turned up in just a few hours to notarize some documents for me. Amazingly convenient service!
Saras Venkatram – Nov 10, 2010
We emailed Nathan last night and he got back to us within minutes & showed up promptly early next morning. Nathan is a true professional.. Fast, friendly and extremely efficient and ofcourse $5 per signature is a steal deal!!. He is very accommodating .. He came to our house and saved us a trip to go out with kids!. We were .. very pleased with his service and will definitely be calling him again for future notary needs.
Isha Vidhani – Oct 20, 2010